Let's start week 3!
Welcome to the third unit, in which you gain insight into what type of idea generation and design methods and tools will foster the project work of children in an open learning setting, such as a is makerspace. Easy to use observation, idea generation and/ or creativity methods, working materials, instructional videos and other materials will be presented, so that you know how to use them during an innovation process.
Learn more about DOIT Innovation Toolbox:
In this unit, you will become familiar with different tools and methods from the DOIT toolbox, which is accessible online and free of charge. This unit includes also recommendations for using makerspaces and digital tools with girls or students with special needs.
In makerspaces you can work with children in different ways with the help of various innovation and creativity methods. Traditional and novel methods, materials, and workshop designs can be found in the DOIT online innovation toolbox. And all materials are published under an open license! That means you can download, use, modify and re-publish them free of charge. The toolbox is structured according to the DOIT learning programme and you can find material for each element: Sensitize, Explore, Work Together, Create, Reflect, Scale-Up and Share.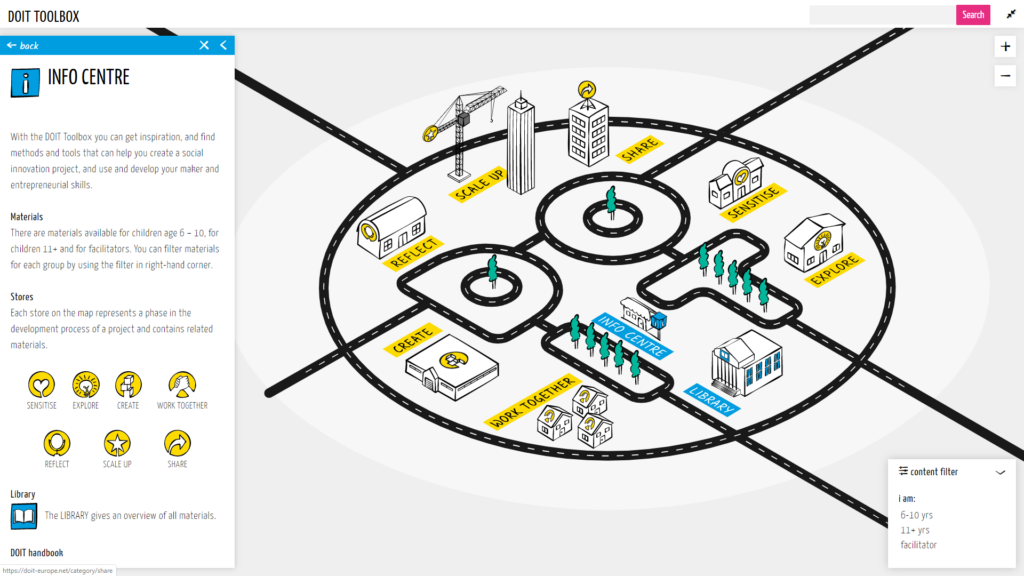 ---
Watch the instructions on how to use the toolbox:
Our colleague Karina Svendsen, Assistant Professor, University College South Denmark, shows you how to use the toolbox and gives you an example of a tool in the next video:
---
The innovation toolbox offers more than 100 different working materials for your workshop and innovation project process and activities. You can just take the one you need for a specific task or combine different ones to use in a specific school project. How about the Social Investigation Board to support the visualisation of a problem? Watch how to use the tools:
Watch the example for the step Sensitize: Lisa's challenge
Watch the example for the step Explore: The Social Investigation Board
Watch the example for the step Create: Plain Prototyping
---
Test your knowledge and understanding about Making Young Social Innovators!
Quiz Unit 3: What innovation methods and tools can I use with young learners?
---
Learning Material and Additional Resources of Unit 3